The 2020 NFL Draft looks like it's going to have one of the deepest groups of pass-catchers in recent history. Despite that, Penn State playmaking dynamo, KJ Hamler, chose to enter his name into the pool. He'll be up against some stiff competition in that regard, but his electrifying play-making ability still makes him a sought-after prospect that a team could use in several different ways.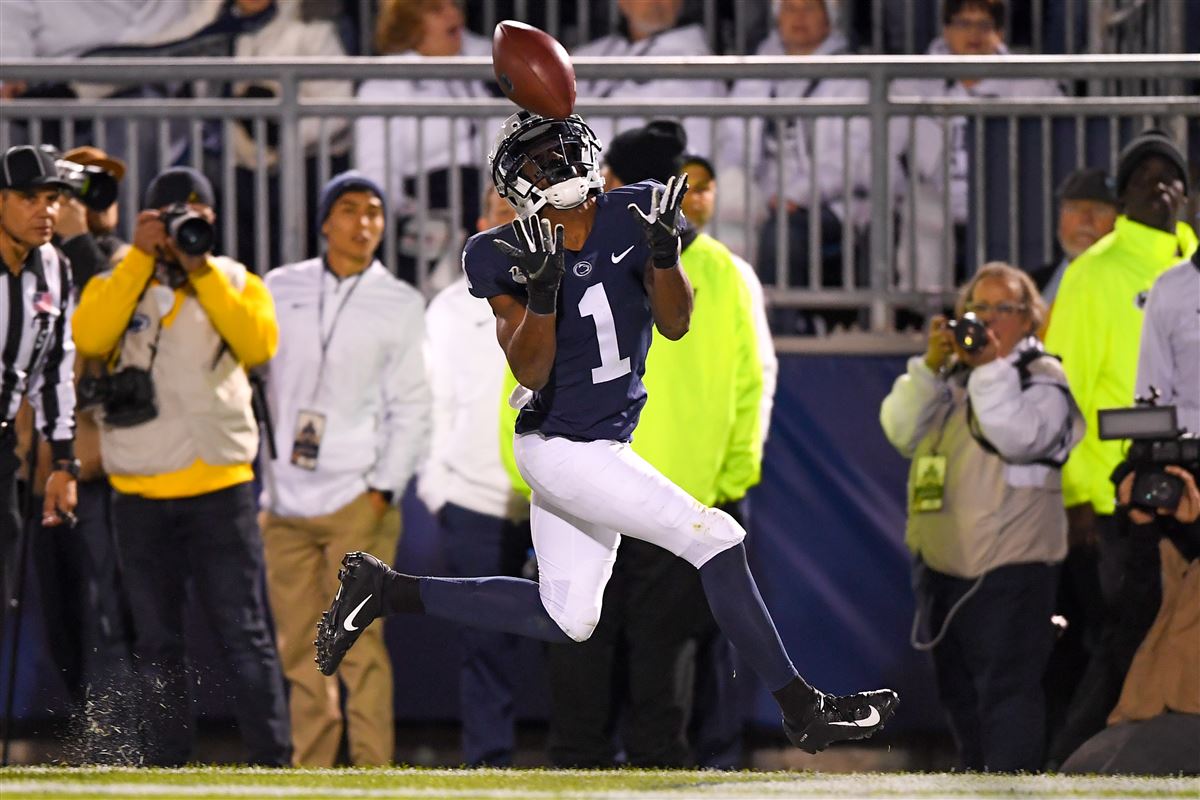 KJ Hamler
Position:
Wide receiver
Height/Weight:
5'9/178 lbs.
Hometown:
Pontiac (MI)
Recruiting Ranking: ★★★★
(0.8919)
Strengths At a Glance:
Speed, Agility, Separation, Vision, Run After the Catch
Weaknesses At a Glance:
Size, Hands, Limited Route Tree, Stamina
Career Summary
KJ Hamler came to Penn State as a blue-chip prospect, but somewhat of an unknown one. His talent was on full display while playing high school ball in his home state of Michigan. He was set to blow up as a recruit at the famed IMG Academy in Florida, but tore his ACL in a preseason game before his season ever began. Still, Penn State saw enough of him pre-injury to target him, and his relationship with future quarterback Sean Clifford helped push him to Happy Valley.
Hamler Career Stats

|   | Games | Catches | Receiving Yards | Receiving TD | Total TD | KR/PR RET AVG |
| --- | --- | --- | --- | --- | --- | --- |
| 2018 | 13 | 42 | 754 | 5 | 6 | 26.15/6.86 |
| 2019 | 13 | 56 | 904 | 8 | 8 | 21.38/5.48 |
| TOTAL | 26 | 98 | 1,658 | 13 | 14 | 23.55/6.0 |
After redshirting as a true freshman while continuing to recover from his knee injury, Hamler burst onto the scene as a redshirt freshman. The Penn State offense had just lost Saquon Barkley, Mike Gesicki, and DaeSean Hamilton to the NFL Draft, and was in drastic need of a playmaker. From week one, Hamler delivered. An electric debut against Appalachian State launched the versatile speedster to a Freshman All-American season. Along the way, he created one of his most memorable highlights – a 93-yard catch-and-fly touchdown against Ohio State.
As a redshirt sophomore, he was finally reunited on the field with long-time friend Clifford. The two immediately showed chemistry, with Hamler becoming one of the most feared players in the conference with the ball in his hands. Along with tight end Pat Freiermuth, Hamler was one of only two players on the offense that really found consistent success, despite defenses often devoting extra resources to account for them. His efforts against Michigan, Iowa, and Maryland, in particular, showed off everything Hamler offers as a receiver. If nothing else, just watch this clip from the 2019 Iowa game and marvel at what Hamler is capable of in a small space.
Strengths
Elite speed both as a receiver and a return man...Elite agility allows him to create space off press coverage as well as at the breakpoint of his routes...Ability to turn on a dime and immediately accelerate back up to full speed (he's called "The Human Joystick" for good reason)...Can separate from most any defensive back in one-on-one coverage...Vision with the ball in his hands is running back-like...Can weave his way through traffic using blockers but also by beating defenders with what can sometimes only be described as video game jukes...Willing to earn tough yards despite small frame..Can line up on the outside or in the slot...Fearless as a return man...Dangerous as both a kick and punt returner (had two return touchdowns called back due to penalty)
Weaknesses
Small frame (measured in at under 5'10)...Not a ton of room to add weight onto his smaller frame without losing the elite speed that makes him so special...Will need to get stronger to win contested catches against NFL cornerbacks...Drops were an issue, especially in 2019...Needs to become more consistent catching the ball away from his body...Needs to refine his route-running to be able to win with timing and speed...Will need to improve his stamina if he wants to return kicks and punts and play a full game at receiver in the NFL...Can get greedy as a kick returner, needs to sometimes be a bit more conservative with taking touchbacks
Summary
The receiver class may be loaded in the 2020 Draft, but there may never be a better time for Hamler to be entering the league. More than ever, NFL offenses are being built around the ability to create mismatches with size, speed, and versatility. Hamler's size will always hamper him, but he has the ability to get into the end zone every time he touches the football. A forward-thinking offensive coordinator should be able to deploy him in a variety of formations, but he also has the ability to succeed as a more traditional slot receiver, as well. If he finds himself in the right situation, Hamler could become one of the more dangerous weapons in the league sooner, rather than later.