Robert Windsor was a bit of an enigma during his time at Penn State. Not much was expected of him based on his recruiting pedigree, but he was contributing in a rotational manner as a redshirt sophomore. He broke out as a pass rusher in 2018 as a 1-tech defensive tackle, then didn't match that production in 2019 as a more pass-rush inclined 3-tech. It's hard to say where he fits best in the NFL, but no matter where he ends up, he'll bring his relentless energy with him.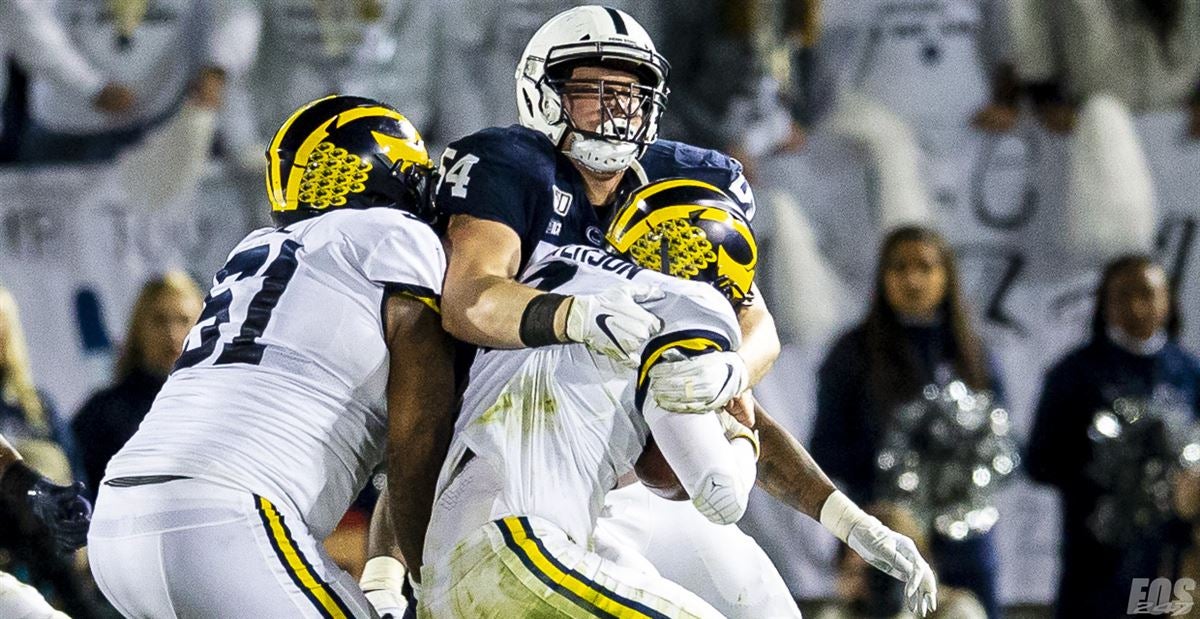 Robert Windsor
Position:
Defensive tackle
Height/Weight:
6'4/290 lbs.
Hometown:
Fond Du Lac (WI)
Recruiting Ranking: ★★★
(0.8453)
Strengths At a Glance:
Motor, Pursuit, Quick First Step
Weaknesses At a Glance:
Size, Block Shedding, Pass-Rush Technique
Career Summary
Windsor came to Penn State as a lightly-recruited three-star prospect out of Wisconsin after being offered a scholarship late in the process. Despite that, he was able to work his way onto the field early and often in his career, making a small impact as a part-time player in 2017 before breaking out in 2018 as a first-time starter.
Robert Windsor Career Stats

|   | Games | Tackles | Tackles for Loss | Sacks | QB Hurries | Forced Fumbles |
| --- | --- | --- | --- | --- | --- | --- |
| 2016 | 14 | 23 | 1.5 | 1.0 | 1 | 0 |
| 2017 | 13 | 19 | 2.5 | 2.0 | 1 | 1 |
| 2018 | 12 | 39 | 11.0 | 7.5 | 3 | 2 |
| 2019 | 13 | 40 | 5.0 | 3.5 | 8 | 0 |
| TOTAL | 52 | 121 | 20.0 | 14.0 | 13 | 3 |
Once handed a starting role In 2018, Windsor predominantly played as a 1-tech defensive tackle next to then-future NFLer Kevin Givens. Despite playing in the more line-plugging role of the 1-tech, Windsor achieved career-highs in both tackles for loss and sacks.
In 2019, it was anticipated that his pass-rush statistics would reach even higher highs as he shifted into the 3-tech role next to Antonio Shelton and PJ Mustipher. However, he accumulated half as many tackles for loss and sacks as the year prior. The numbers don't tell the whole story, as Windsor still often made an impact behind the line of scrimmage, but it wasn't quite the season that many were hoping for. Still, he had plenty of moments that showed how good he can be when it all comes together.
Strengths
Relentless motor...Non-stop pursuit of the ball carrier, even when he seems out of the play...Experience playing both 1-technique and 3-technique on the interior of the line...Has a quick first step off the snap and uses it to penetrate the pocket...Usually able to contain the ball carrier after engaging
Weaknesses
Needs to add size in order to win on the interior in the NFL with consistency and stay in his gap...Can get into trouble with penalties when trying to time up the snap count...Struggles to disengage with blockers until later in the play...Doesn't have the size to beat or fully occupy double-team blocks...Needs a wider variety of pass-rushing moves
Summary
Finding the best fit in the NFL for Windsor is a tricky proposition. His future isn't as a 1-tech unless he puts on a massive amount of weight. He could be a passing-down specialist as a 3-tech if he can diversify his pass-rushing moves and be more violent with his hands to go with his quick first step. He could even transition into a defensive end role as a 5-tech, but doing so would require him to improve his block-shedding in order to control the run game on that side of the line. Still, Windsor's best attribute is his never-say-die nature on the field, and he will never give up on a play. That's the type of thing that NFL coaches and general managers notice, and it's the kind of thing that should get the Nittany Lion drafted.