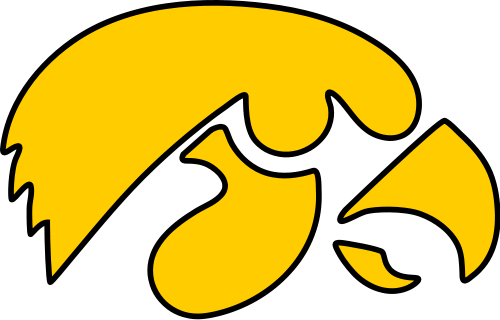 Iowa Hawkeyes
4-3 (0-0 B1G)
ROSTER / SCHEDULE
5 p.m. EST - Saturday, December 2, 2017
CARVER-HAWKEYE ARENA
IOWA CITY, IA
TV Info: Big Ten Network
KenPom Rank: 69 OVR, 61 AjOE, 120 AjDE
Vegas Line: Penn State -1.0
Penn State's season is not over because of their loss to NC State, but it only makes their path to the NCAA Tournament that much tougher. After their loss to Texas A&M, a legitimate top-10 team with NBA talent in the frontcourt, Wednesday's game against the Wolfpack represented the last chance for Patrick Chambers' team to grab a top-100 win in the non-conference.
Losing that game 85-77 means Penn State needs at least a winning record in the Big Ten to be in the conversation. With the embarrassingly weak schedule, the goal now has to be 11 wins, and that means winning some road games like the one today.
As you'll recall, Big Ten teams are playing a pair of conference games this week due to the conference tournament being held a week earlier in Madison Square Garden. The result is that Penn State's first opportunity to get back on track after the NC State loss comes in the form of a conference opponent also desperate to change the course of their season in Iowa.
When these two teams last met in the Big Ten finale at the end of the 2016-17 season, the Hawkeyes handled Penn State, winning 90-79. One positive was the pairing of Mike Watkins and Josh Reaves. The two underclassmen had big offensive games that night, combining to go 18-20 from the floor. But they'll face a new look Iowa frontcourt that may cause some problems for Penn State on the defensive end.
Projected Starters
Penn State
 
IOWA
No. 10 - Tony Carr - 6'5 - So.
PG
No. 3 - Jordan Bohannon - 6'0 - So.
No. 33 - Shep Garner - 6'2 - Sr.
SG
No. 4 - Isaiah Moss - 6'5 - So.
No. 23 - Josh Reaves - 6'4 - Jr.
SF
No. 0 - Ahmad Wagner - 6'7 - Jr.
No. 11 - Lamar Stevens - 6'8 - So.
PF
No. 5 - Tyler Cook - 6'9 - So.
No. 24 - Mike Watkins - 6'9 - RS So.
C
No. 55 - Luka Garza - 6'11 - Fr.
Iowa entered this season with plenty of optimism after overachieving last year with a bunch of freshmen. Now that they've become sophomores, there was plenty of discussion last month that the Hawkeyes could be the sleeper team in the Big Ten. That hasn't been the case through the first three weeks of the season. Their recent road loss to Virginia Tech is nothing to be ashamed of (although a tied game at halftime turned into the 24-point beatdown), but their losses to LA-Lafayette and South Dakota State in the Cayman Islands Classic are prime examples of why the Big Ten has looked so weak in the early going. Their "best" win to date was their final tilt in the Caymans, a 95-85 win over UAB that was close until the final minutes.
Scouting Report

The first thing that strikes you about Iowa is the size and depth of their frontcourt. The combination of Luka Garza and Tyler Cook is likely to give Penn State fits. Cook loves to attack and draws fouls at a high clip, which is an even bigger problem because he knocks down 87 percent of his free throws. Meanwhile, Garza, a true freshman from Team Takeover, has been the best shot blocker in the gym on most nights and is an excellent rebounder. Reserve freshman Jack Nunge has also been strong out of the gate as well, showing a predilection for aggressive defense and a capable three point shot at 6'11. With Penn State's depth problems down low, expect Fran McCaffery to have his team attack Watkins and Stevens early and often. 
| IOWA Four Factors | eFG % | OReb % | TO % | FT Rate |
| --- | --- | --- | --- | --- |
| Offense | 55.2% (26) | 34.4% (55) | 18.7% (150) | 47.9 (17) |
| Defense | 48.1% (101) | 31.0% (227) | 18.1% (222) | 27.6 (62) |
Sophomore wing Isaiah Moss is the team's gunner, taking almost 31 percent of the team's shots when he is on the floor. He is shooting 42 percent from three on the young season and has hit 17 of his 18 free throws. Expect Josh Reaves to be tasked with harassing Moss on the perimeter. Point guard Jordan Bohannon is averaging 4.9 assists per game and can also the stroke the three with accuracy (48.9 percent).
Keys to the Game

Much of this game will likely be decided in the paint. Iowa has gotten to the free throw line often so far against subpar competition, but Penn State's depth behind Watkins will not be able to keep up with the Hawkeye bigs if he gets in early foul trouble. I would not be at all surprised to see Penn State use its 1-2-2 press often in this game to try to force turnovers before Iowa can set up its halfcourt offense. The Hawkeyes have shown a tendency to be careless with the basketball, and the Nittany Lions have been one of the country's best so far at forcing them.
Offensively, Carr has a clear size advantage over his opposing point guard Bohannon. With the 2-guard position often manned by Garner or Jamari Wheeler whenever Carr is on the floor, it would make some sense for Iowa to have Moss guard Carr and Bohannon take on the Garner/Wheeler pairing. Regardless, Carr will likely need another strong offensive performance in this one with Watkins, Stevens, and Reaves having their hands full on the defensive end.
Prediction

Penn State lacks the uglier losses that Iowa does, so despite playing on the road, the Nittany Lions are a 1.0-point favorite in Vegas. KenPom is almost in lockstep: they have Penn State winning 77-75, with a 56 percent chance of victory. Needless to say, it has a very good chance to be a very close game. After sitting with the NC State game for a couple of days, I am less upset about the result and think the Wolfpack may have been a bit underrated. Iowa is going to get their points, and if they get Watkins into early foul trouble, they may feast down low on Julian Moore and Satchel Pierce.
That said, we thought that would happen against Texas A&M, and the Moore/Pierce combination survived a long stretch of the first half without Watkins and kept the Nittany Lions in the game. I like Penn State to be focused after a tough loss and to squeak one out ahead of another important game coming up on Tuesday. Penn State 80, Iowa 76