Judge Culpepper's verbal commitment to Penn State not only signified another big recruiting win from the talent-rich state of Florida, but also pushed the Nittany Lions one step closer to building a dominant defensive line.
With spread concepts being a part of virtually every program across the country, the need for fast, powerful athletes along the defensive line is as prevalent as ever. Culpepper helps to fill that need for Penn State.
---
Upon viewing, Culpepper's athleticism immediately jumps off the page. It's not every day that you see a high school defensive tackle also play tight end (though Culpepper does line up at end and tackle for his high school team, so I'm cheating a little bit). He has great speed for his size (6'5, 256 lbs.) and uses it to his advantage when going up against offensive lines.
(There has been no indication of any plans to have Culpepper play on offense in Happy Valley, so we're going to stick to his defensive evaluation here.)
The natural reaction for a Penn State fan upon viewing his tape is likely going to be to compare him to Anthony Zettel. Like Zettel, one of Culpepper's greatest strengths is his speed. However, Culpepper looks to be more of a natural fit on the inside, whereas Zettel was always better suited to play on the edge, and just took advantage of less-skilled guards while playing inside.
I think a better projection for Culpepper is to be a Geno Atkins type. Atkins's speed is paramount to his success, but it's how he combines his speed with his power that makes him special. He doesn't simply attempt to get around people, he uses his speed to beat linemen to the point of attack and then uses his power to fight through the block.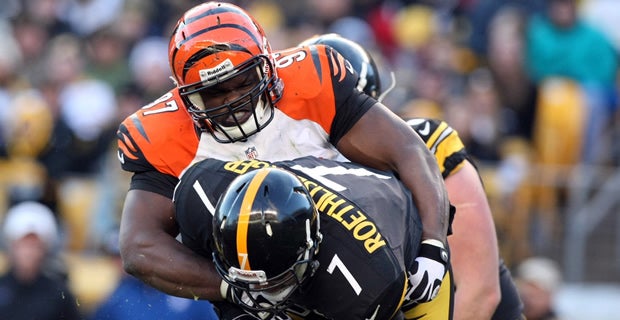 This is likely what Culpepper will be taught to do in State College. Many of his highlights show his pass rushing from the nose tackle position, which is not only a position Penn State will likely not put him in, but will also not expect him to rush from. As I mentioned at the top, he also regularly lines up on the edge, so he has experience rushing in a more traditional sense, as well.
The fun thing about Culpepper, though, is that his future is far from set in stone. His skillset will allow him to develop into a pass rushing menace on the inside, but his size could also allow for him to become more of a big bodied disrupter in the middle (Calais Campbell?).
Something that James Franklin knew he would have to do with the 2018 class was find versatility. With the limit on how many members this recruiting class can ultimately hold being unclear, finding players who can be considered at multiple positions is key. They found that with Nick Tarburton, who could eventually grow into the defensive line. They found that with Shaquon Anderson-Butts who could end up a receiver or defensive back. And they found that with Culpepper, who could end up filling either role on the defensive line interior and could even bounce to the edge if needed.
Penn State got a good one here with Culpepper, in more ways than one.