Welcome to the early signing period for the 2022 recruiting class here at Roar Lions Roar. Make sure to check out all of our other coverage today and in the coming days, and make sure to check out each profile of the newest Nittany Lions as they sign their letters of intent. (All photos you see below are courtesy of 247Sports)
---
While he doesn't come with the stars of some other classmates, Wylie is a very exciting player to watch.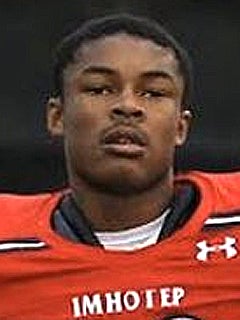 Keon Wylie
Position:
Linebacker
Height/Weight:
6'2/210 lbs.
High School:
Imhotep Institute (Philadelphia, PA)
247Composite Rank: ★★★
(0.8850)
Positional Rank:
No. 437 Overall, No. 43 Linebacker, No. 13 in Pennsylvania
Commitment Date:
July 3, 2021
RLR's Take
Wylie, the highest-ranked three-star player in the 2022 Penn State class, plays at a much higher level than his ranking would suggest. The fact that he earned an invitation to the All-American Bowl is proof enough of that.
Wylie, similar to fellow Pennsylvania pass rusher Ken Talley, could end up at either linebacker or defensive end when all is said and done but is more likely set to start out as a WIL or SAM linebacker. Still, the most impressive part of his high school tape is his ability to rush the quarterback, and he shows an ability to do so by both shedding blocks and beating linemen with his speed.
Moving Forward
How fast Wylie sees the field will be mostly dependent on whether he starts out as a linebacker or edge rusher. He profiles as an early contributor on special teams if nothing else, but his home on defense will determine those snaps.
If he does start out as a linebacker, Brandon Smith's decision on whether or not to jump to the NFL will be critical. Curtis Jacobs is perhaps destined for either the MIKE or WIL role in 2022, which could leave the SAM role wide open. Charlie Katshir is likely the favorite right now, and Jamari Buddin and Kobe King are likely ready to take steps forward, but Wylie could force his way into the picture with a strong fall camp.
Highlights
Welcome to Penn State, Keon.