They say that rest is the best medicine. Not that Penn State was exactly sick, or in need of healing in any way after an undefeated start to the season, but with the three toughest games on the schedule coming up back-to-back-to-back, maybe we can consider this past bye week a dose of preemptive medicine.
It's time to learn who this Penn State team really is

The Nittany Lions are 6-0. Their schedule hasn't been nearly as soft as some have made it out to be, but it's certainly no murderer's row. All of that changes this Saturday with Michigan and continues with Ohio State and Michigan State in the following weeks.
Offensively, the Wolverines don't present much of a challenge as they rank just 76th in the country in offensive S&P+, but the run game is something to keep an eye on. The Nittany Lions have allowed a big run here and there in 2017, but with O'Korn slinging the football around, they can certainly load up to keep Karan Higdon, Ty Isaac and company stifled.
On the flip side, the Michigan defense is a step up from what Penn State has seen. Indiana ranks as the toughest defense they've faced so far (No. 22), and all the Lions did in that game was drop 31 offensive points on the Hoosiers. Still, Don Brown's defense is fierce and will keep this game close throughout.
All of this should lead to us being able to color in a large portion of our picture of the 2017 Penn State team. How they respond in a night game situation against a top-20 team in their own division, and off of a bye week, will tell us a lot about the team's mental toughness, and offensive ability.
An opportunity for revenge? Not so fast

When looking at this game, it's hard not to conjure up memories from last year's 49-10 Michigan win in Ann Arbor. Naturally, one would assume that the players and coaches are looking at this game as a chance for payback, and despite some insinuating as much on Twitter, but in talking with ESPN, the team seemed pretty adamant that they were trying to avoid that mindset.
"I really don't think last season's game has a whole lot to do with this Saturday's game," [Franklin] said. "I don't think past historical records have a lot of factor into this game Saturday."
Cornerback Amani Oruwariye said the Lions don't view Saturday's rematch as a revenge game, but rather as "a platform to build from."
It's not surprising to hear this, as Franklin and his team have preached a 'one week at a time' mentality all year long, which extends to treating every team the same way (right, Akron?). Still, it's fair to expect that this year's team is eager for a chance to avenge last year's blowout loss, which ended up being one of the primary reasons the 2016 team was excluded from the College Football Playoff.
A can of O'Korn?

In a game full of mismatches, the one that seems to play most into Penn State's favor is their pass defense against the Michigan backup quarterback. According the S&P+, the Wolverines have been just horrendous through the air, ranking No. 107 in passing success rate (efficiency), No. 60 in passing isoPPP (explosiveness), and No. 90 overall in passing S&P+.
On the other hand, Penn State's pass defense has been phenomenal in 2017. The Lions rank No. 8 in terms of limiting passing success rate, No. 3 in limiting big plays (passing isoPPP) and are the No. 5 overall team against the pass.
John O'Korn is completing just 54.9% of his passes with a 1/4 touchdown to interception ratio. That's simply not good enough. Now, it's not totally his fault, because Michigan also claims a rather unimpressive and inexperienced receiving corps to go with a massively under-performing offensive line. Pair that with Penn State's fifth-ranked overall havoc rate and third-ranked defensive line havoc rate, and you have a delicious recipe for a mismatch.
But that's not the only mismatch in this one

Hey, guess what!? Michigan has an awesome defense again! Who would've guessed it?
Despite massive turnover, the Wolverine defense is as strong as ever, even if it's not quite as stout as the 2016 unit overall. Still, they've done an excellent job of limiting both the run and pass, and they've nearly, completely prevented any and all third down conversions against them. For a Penn State team that gets stuffed at the line of scrimmage as often as they do, leading to lots of long second and third down plays, that's a scary thought. The key to this game for Penn State will be avoiding mistakes. That's a very difficult thing to do when you're consistently putting yourself into undesirable downs-and-distances.
Start mentally preparing for the Ohio State game if...

The offensive line provides enough resistance against Maurice Hurst, Chase Winovich, and Rashan Gary, to allow the offense to get going
The offense takes care of the ball and doesn't give a bad Michigan offense a short field
The secondary harasses O'Korn and picks him off twice - one more each for Haley and Oruwariye
Barkley returns to his Heisman-vote-deserving ways with two touchdowns and 150+ total yards
Kiss the Playoff Goodbye if...

Penn State is flustered going up against the best defense its seen yet
The Lions look sleepy to start coming off of the bye week
Michigan turns Penn State over and gives their inept offense a much easier proposition with a shortened field
Penn State loses the field position battle
Prediction in Gif Form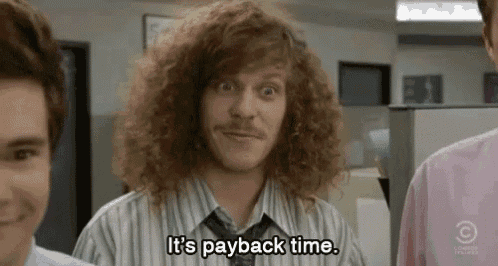 I think the line of 9.5 points is very fair. I think Penn State is the more talented team, the more motivated team, and the team with more to prove - but Michigan is simply too good of a team to lose by more than 10 points to a rival, not-rival, whatever you want to call them.
I see this game going into the fourth quarter with a scoreline of something like 17-10, or 20-17, with Penn State gaining a small amount of breathing room late. In a lot of ways, though, I think this could feel similar to the Iowa game. Just with less drama, hopefully. When we look at the box score afterwards, it wouldn't be surprising to see that Penn State heavily out-gained the Wolverines, but just couldn't punch it into the end zone as often as expected.
I think Penn State is the better team. Penn State is the home team. It's a night game. It's a whiteout. I don't see the Nittany Lions disappointing the hometown faithful in this one.
Penn State 24, Michigan 17