College football is the weirdest sport there is. You needn't look any further than the 2017 regular season to prove as much. This year alone, top-20 Oklahoma State TRAVELED to South Alabama to play a game. Louisiana Tech faced a 3rd-and-93. Thanks to penalties, Salisbury kicked off from their opponent's 10-yard line.
But there's an argument to make that the weirdest thing to happen in 2017 (to this point, at least) is everything that's happened at Tennessee since firing Butch Jones. Allow me to briefly summarize what's happened in Knoxville since Jones was kicked out of town.
Brady Hoke was named interim head coach
Tennessee lost their final two games against LSU and Vanderbilt by a combined score of 72-34
They went winless in the SEC for the first time EVER
They were set to hire Greg Schiano as their new head coach, until fan outrage on social media and a rock led to them backing down from that, which could lead to a lawsuit
Coaches on the Tennessee staff were calling potential head coach candidates and telling them not to take the job because of AD John Currie
They've reportedly been turned down by the following coaches: Jeff Brohm, David Cutcliffe, Dave Doeren, Jon Gruden, Mike Gundy, Kevin Sumlin, Mike Leach (see below), and Lane Kiffin (that one was very public)
They reportedly were set to hire Mike Leach, but then Currie was fired and Tennessee officials didn't allow it to happen
They're currently on the hook for $13 million in buyout payments to Jones and Currie and still don't have a new head coach
I've been so wrapped up in this fiasco that will hopefully be turned into a 30-for-30 or a full-length documentary one day that I had almost forgotten about the part of all of this that most closely pertains to Penn State fans today. Thankfully, everyone's favorite farmer harvested this tweet from his memory bank and shared it with the world.
Just remembered how Bob Shoop left Penn State for Tennessee 23 months ago b/c UT was the program going in the right direction.

— Farmer Jones (@thefarmerjones) December 1, 2017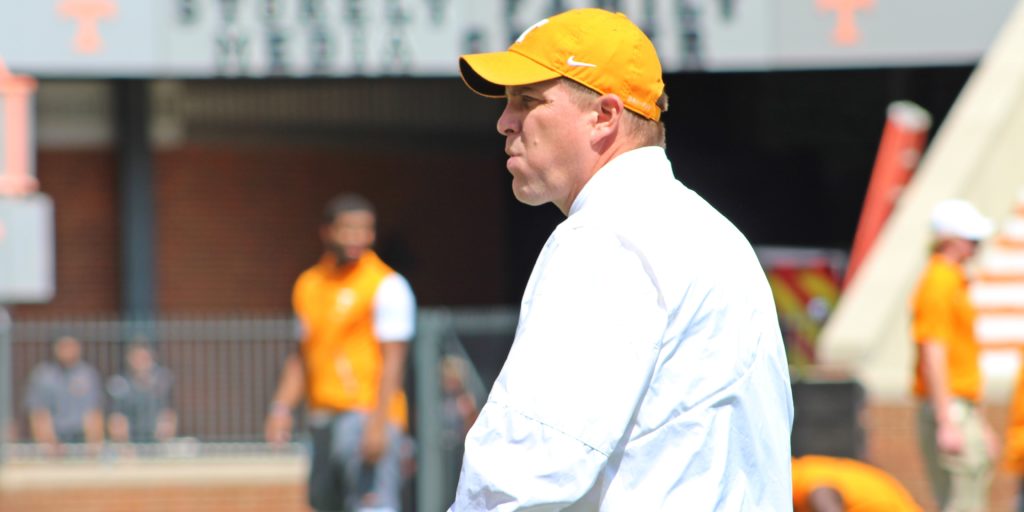 There have already been plenty of revisionist historians chiming in on Twitter bashing Shoop and his decision to leave State College after the 2015 season. People have already re-hashed his comments on what he claimed to be "intolerable" working conditions enough on their own. If given a look into the future, would Shoop still have left Happy Valley? We can never know the answer to that question, even if it's safe to assume he at least wouldn't have chosen Tennessee as his eventual destination.
But that's not what this article is about. In fact, this is about nearly the exact opposite of all of that. While I, along with the large majority of Penn State fans, didn't want him to jump ship to join the Volunteers, I didn't blame him for doing so then. And I don't blame him for doing so now.
---
Think back to January 2016. Penn State had just capped it's second consecutive seven-win season. The team was on the rise and recruiting was going well, but the results on the field were lackluster as a whole. The defense was very solid under Shoop, but there was only so much it could do when forced onto the field constantly thanks to an inefficient and non-explosive offense. James Franklin wasn't quite on the hot seat just yet, but it was certainly warm, particularly with top-notch coaches Urban Meyer, Jim Harbaugh, and Mark Dantonio all in the same division. And while there was hope that the offense would improve under new coordinator Joe Moorhead, he was just some head coach from Fordham, so no one was totally sure if it would work out perfectly.
PSU & Tennessee Comparison

 
Penn State
Tennessee
 
2016
2017
2016
2017
Record
11-3
10-2
9-4
4-8
Division Rank
1st
2nd
2nd
7th
Overall S&P+
8
6
28
108
Tennessee on the other hand, was seen to be a program on the rise. Jones had managed to raise the Volunteer win total in each of his first three seasons (5 wins in 2013, 7 in 2014, 9 in 2015). They were a top-25 team by S&P+ metrics, including a top-50 offense and a top-20 defense. The class of 2016 that was preparing to enroll was ranked No. 14 in the country, and was preceded by back-to-back top-10 classes before it. The SEC East boasted a solid Florida team, but no one else looked like much of a threat to be a national contender in the short term or the long term. And in that 2015 season, it could be argued that no one played eventual national champion Alabama tougher than the Vols (outside of Ole Miss, who beat the Tide).
Considering all of that, in addition to the fact that Jones seemed like he could potentially jump to an even bigger job in the near future and the fact that Shoop already knew the Tennessee area well from his time at Vanderbilt, can you really blame him for making the move that he did?
Penn State's future was more up in the air heading into 2016 than it had been at any point post-2012. The future still seemed to be bright, but there were warning signs foreshadowing possible disaster. Tennessee looked like a team on the verge of contending for national titles on an annual basis under Jones, and Shoop's defensive brilliance had a chance to be the thing that put them over the top. It was the perfect situation.
---
I don't need to lay out what's happened since then. You know what Penn State has done over the past two years, and the introduction to this post tells you all you need to know about the current state of Tennessee (pun not intended).
In January of 2016, Bob Shoop made a decision that mostly everyone in the same situation, likely would have made. It was the sensible decision, the logical decision, and the decision that seemed like it would be the smartest for his long-term goals. Yet here he stands, almost 23 months later, waiting to find out if he'll even have his current job if his employers can ever stop tripping over each other long enough to actually hire a new head coach.
In just 23 months, the entire axes on which each of these storied programs have spun have shifted completely. Why? Because college football is as volatile as they come. Even the invincible Alabama isn't free from the chaos. Just ten years ago, they were hiring Nick Saban, in hopes that he would get the rotten taste of Mike Shula and his 10-23 record over three years out of their mouths.
Penn State is currently amidst what could end up being one of the greatest sustained periods of success the school has ever seen. Even as we sit here today, justifiably disappointed that they won't be a part of this year's College Football Playoff, it's worth remembering how quickly things can change in this sport, even if the relief that provides only eases the sting of missed opportunities for a moment or two.
Because all it takes is a quick glance across the Mason-Dixon line to see an example of how quickly things can change.