After walking into Heinz Field and demolishing the Panthers in prime time, the Nittany Lions set their sights on Kent State. With just one game to go before conference play, Saturday will serve as the final tune-up.
 
Penn State
Kent State
2018 records
2-0 (0-0)
1-1 (0-0)
Head Coaches
James Franklin (62-32, 38-17 with Penn State)
Sean Lewis (1-1, 1-1 with Kent State)
kickoff
12:00 PM ET
television
FS1
stream
Fox Sports Go
spread
Penn State -35
Keep the offensive fireworks going
Penn State's offense exploded for 37 points in the second half of last week. After two slow starts, Ricky Rahne has to find a way to keep that momentum rolling. 
The passing game has had a rough go early as well. If McSorley can get that phase of the game off the ground, Penn State could come out and score five touchdowns before the half. Realistically, let's settle for three and all be happy with the progress.
Stop the run early and often
The Nittany Lions have allowed 202 rushing yards per game, good for 103rd in FBS. While the halftime adjustments were more than enough to shut down Pitt's ground attack, the Nittany Lions need to start off strong up the middle.
Kevin Givens' return cannot be understated. The defensive front looked like a whole other beast with him out there. He needs to be on the field as much as possible early to make sure he's fully in shape after missing the first game. That half should be more than enough to get him up to speed and hopefully he'll be on the sidelines with the rest of the starters in the second half.
catch the ball
If you're going to drop passes, this is the last game to do it. Penn State has dropped nine balls so far this season, with the bulk of them coming from experienced players.
While it always takes times for new offenses to get in rhythm, these drops have mostly been mental errors. New wide receivers coach David Corley has to take matters in his own hands and make sure Penn State's wide outs focus on making the reception, then worrying about getting upfield. 
Head back to the tailgate lots before 1 pm if...
Trace McSorley finds his rhythm and the offense finds the end zone on its first three drives.
Miles Sanders gashes the Golden Flash defense for 100 yards before the break. With any luck, Ricky Slade or Mark Allen will join him.
The defense gets pressure and forces Woody Barrett to hurry some throws. Penn State's defensive line is far deeper, so they could cause a lot of havoc and put the defensive backs in good position to create turnovers.
Stand sadly in an unoccupied field if...
The team looks sluggish in a letdown spot. The Big Ten season is right around the corner, so it's easy to have one eye on the future and not focus on the present.
The drops continue. It doesn't look like the conditions will be too bad, so if there are drops, it will be evident that it's a much bigger problem than rain.
Someone gets hurt. Penn State should blow the doors off Kent State so the most important thing has to be keeping the key players healthy and avoiding disaster.
Prediction in gif form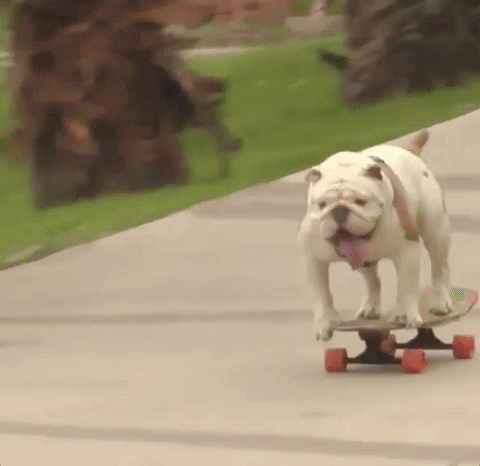 Like this very cool bulldog on a skateboard, a lot of players will help Penn State win on Saturday. The Nittany Lions will jump out to a big lead early, won't look back, and we'll get to see a lot of young names get a chance to prove themselves. 
Trace McSorley and his receivers will find their footing, leading to a three tuddy day through the air for the senior. The drops are eliminated and McSorley completes about 70 percent of his passes as a result. Juwan Johnson goes over one hundred yards and catches his first touchdown of the year. Miles Sanders dominates, Ricky Slade gets some redemption, and the defense comes ready to play from the start. Penn State will cruise to a 63-10 win leaving James Franklin not too much to stress over ahead of the short week.