It's been a down year for both the Nittany Lions and the Wisconsin Badgers, as both teams are on the outside looking in on their respective divisional races. That doesn't mean there still isn't a lot to play for in a game that is as close to a "must-win" as it gets for both programs.
 
Penn State
Wisconsin
2018 records
6-3 (3-3)
6-3 (4-2)
Head coaches
James Franklin (66-35, 42-20 with Penn State)
Paul Chryst (59-20 overall, 40-10 with Wisconsin)
Kickoff
12:00 P.M. ET
Television
ABC
stream
WatchESPN
Line
Penn State -9
Slowing down Jonathan Taylor

Wisconsin running back Jonathan Taylor has been a star since his first game in Madison. The sophomore has the most rushing yards in the Big Ten since the start of the 2017 season, rushing for 3,340 yards in just 23 career games. Outside of Ezekiel Elliot, he may be the best running back Penn State has faced under James Franklin.
Paul Chryst's offense loves to pound it on the ground and wear down its opponents. With Penn State's run defense being suspect at times and a cold game day expected in State College, we could see Taylor come close to 40 carries on Saturday. Brent Pry's front seven need to play their best game of the season if they want to slow down the nation's best non-option rushing offense in the country. Expect to see a lot of rotation at defensive tackle, maybe even the debut of Judge Culpepper or Aeneas Hawkins as Penn State looks for reinforcements at a thin position.
It's also worth noting that the Badgers may lean on the run game more heavily than ever, with starting quarterback Alex Hornibrook likely out for the game with concussion symptoms, which means Jack Coan will get another start. In his first start, Wisconsin lost to Northwestern, and lost control of the West in the process.
Which freshmen will see?

With only four games left, the coaching staff can start rotating in some of the freshmen who have guaranteed their redshirt for the season and also work in some of their classmates who can still spare a few games. Guys like the aforementioned Culpepper and Hawkins could really help get some starters rest, but it's players like Nick Tarburton and Jayson Oweh who could have the biggest impact on the defense.
On offense, a new face or wrinkle could help a struggling unit find its footing again. We may not see Justin Shorter unleashed until next week, as he appeared against Kent State, giving the former five-star prospect just three games left to preserve his redshirt. Like Shorter, Zack Kuntz can appear in three more games and maintain his redshirt. With Juwan Johnson most likely sidelined yet again, we could see the big tight end get some snaps in the red zone to give McSorley another big target around the goal line.
Mcsorley's health 

It's no secret that Trace McSorley is hurt. He looked like he couldn't run all that well in Ann Arbor and after not seeing him run a single time at Wednesday's open media practice, I'm not confident his health has improved much. While there's been no indication that McSorley won't start, it's not out of the realm of possibility that we will see an extended run of Tommy Stevens in this game.
Still, unless it is glaringly obvious to everyone in the stadium that McSorley's health is limiting what the offense can do, he should be the one leading the offense. He's the best quarterback on the roster and a healthy McSorley gives Penn State their best chance to win. If he looks worse or even similar to the way he did against Michigan, though, the coaching staff needs to learn from their substitution blunders against the Wolverines, and go to Stevens the moment that there's any doubt about McSorley. 
start planning for a trip somewhere warm for new year's if...

The Nittany Lions are able to contain Jonathan Taylor. You won't stop him, but the Nittany Lions have a good chance to win if they can make him ineffective and force the Badgers to throw.
Trace McSorley looks like his old self. This all comes down to health so bonus points if he rips off a big play on the first drive.
The Nittany Lion defense is able to get off the field. This is a unit that has played a ton of snaps so getting those third down stops are more important now than ever before.
feel foolish for believing wolverines and badgers are different if...

Trace McSorley attempts to play injured and Wisconsin capitalizes with some aggressive blitzes and forces Penn State to punt early and often.
Taylor runs wild against a beat-up defensive line. The Badger's offensive line is no joke, so he'll have his opportunities if his guys can open up some holes.
Penn State has to air it out to win. It will be cold and windy in State College, meaning running will be king. Although not as good as it has been in year's past, this Badger defense knows how to make a team one dimensional. Penn State probably will not survive a tough test if that's the case.
Prediction in gif form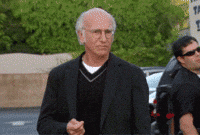 This is going to be the face you make watching these two teams play offense.
The Nittany Lions will start off slow while they figure out what McSorley is capable of doing against a live opposing defense. They'll get Miles Sanders a ton of touches early on, with him breaking off a big run to put Penn State in field goal range. K.J. Hamler hauls in six passes and surpasses the century mark in receiving. Nick Bowers finds the end zone for his first touchdown of the season and we finally see the return of Ricky Slade. With quarterback questions of their own, Wisconsin will struggle to keep the Nittany Lion defense honest and Pry is able to limit the damage Taylor is able to do by loading the box. There will be some fumble luck plays in the defense's favor and Penn State comes up with three takeaways. The game stays low scoring from start to finish but the Miles Sanders rips off another big run late to put it on ice and Penn State wins 24-13.