Ahead of the 2017 season, the Nittany Lions were looking at arguably the best cornerback room in program history. Grant Haley and Christian Campbell had established themselves as big-time players, Amani Oruwariye was on the verge of a breakout season, John Reid was blossoming into one of the Big Ten's best defensive backs, and five-star freshman Lamont Wade on his way in. When Reid went down with a season-ending knee injury during spring camp, a glaring hole opened up, it paved the way for Tariq Castro-Fields to crack the rotation as a true freshman. 
Castro-Fields took that opportunity to play and made his presence felt from day one. He totaled just 10 tackles, but as the fourth corner, that was never really supposed to be his job. He did log one pick and three pass breakups, the same numbers as Marcus Allen had that season. He showed a lot of promise and gave the staff enough confidence to move Lamont Wade to safety. 
With Haley and Campbell's graduation and Wade's aforementioned position change, Castro-Fields was at worst going to be Penn State's third corner last season. While he did ultimately start just three games, Penn State went with three corners a lot. So much so that TCF ended up playing over 60% of the total defensive snaps and just 10 fewer snaps than Reid. Sure, Reid missed some time early in the season, but even when both were available TCF usually played no more than 15 fewer snaps than Reid. When he was on the field, Castro-Fields made a tremendous impact. He was fantastic in run support, putting up 32 tackles, including five for a loss. He also handled an increase in targets well, breaking up seven passes, just one less than Reid. 
Now with Oruwariye gone, TCF is an unquestioned starter and on his way to becoming one of the best corners in the conference. The thing that makes him so unique is his ability to tackle in open space. For a corner, he's in the backfield a lot and knows how to take down guys bigger than him.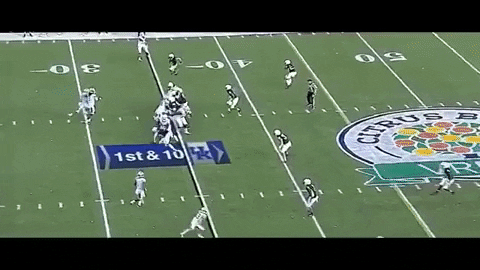 Here he is on a corner blitz, bringing down the 6'3/205 Terry Wilson with ease. TCF trusts his instincts, doesn't bite on the fake, and wraps up in the perfect way to bring down a guy who has three inches and twenty pounds on him. 
Castro-Fields fights through a blocker like he's a linebacker on this play. These are the type of plays you can't teach a corner. This is just a desire to play physical and a big reason for those five TFLs a season ago.
But at the end of the day, Tariq Castro-Fields is a cornerback and he will be most relied on in pass defense. Thankfully, that physicality does not go away when he drops back into coverage.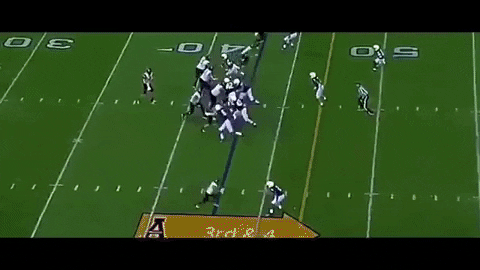 TCF is on this poor Appalachian State receiver like glue on this play. Castro-Fields gets his hands across the pass catcher's body, leaving next to no chance for this ball to get there cleanly. He also does a great job jamming the receiver, giving Koa Farmer a bit more time to drift over, making the window even smaller. Overall, just a really impressive play.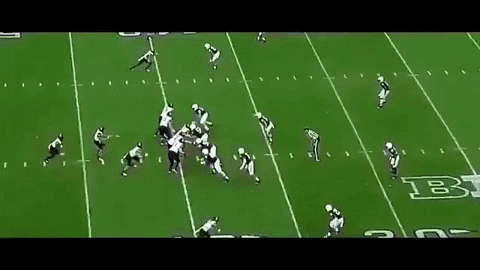 I mean what's not to love about this? TCF is on his own in man coverage with a receiver trying to get him to bite. Instead, he stays disciplined and doesn't allow the receiver to get seemingly more than six inches away from him. 
If Castro-Fields puts together a big season, there's a chance this could be his last year in Happy Valley. Although he will technically be a first-year starter, he's been preparing for this for the past three seasons. The Nittany Lions' secondary is in a very different position than it was a year ago. There are next to no question marks with John Reid and Garrett Taylor returning and seemingly healthy competition at the other safety spot. Opposite of Reid, one of the best corners in the Big Ten in his own right, Castro-Fields could be the missing link that propels the Penn State secondary to the next level.