When the clock hits 0:00 on Saturday, the Penn State-Pitt series revival will be complete. As far as how long it will be before these two programs play again, it's hard to say. But considering comments we've heard publicly from Sandy Barbour and James Franklin alike, it's fair to assume that it will be quite a while, barring Pitt agreeing to play at a neutral field.
With that in mind, I felt that we couldn't let this moment pass without thanking the Panthers, their fans, and their coaching staff for all they have done for Penn State over the past four years. So without further adieu, I proudly present an ode to the great Panthers of Pittsburgh.
---
Oh, dearest Pitt,
I fear that throughout the years of rivalry, vitriol, and downright nastiness, you've gotten the wrong impression. We don't hate you, we love you! We don't know what we would do without you! You've impacted our lives in more ways than we can count, and we're eternally grateful for that. So please, consider this a thank you on behalf of the entirety of the Penn State community.
Thank you for never being all that threatening. Yes, you grabbed that big victory back in 2016 (and that was a great win for you, don't get it twisted), but for the most part, you've been incredibly considerate and made this game very straight forward for us.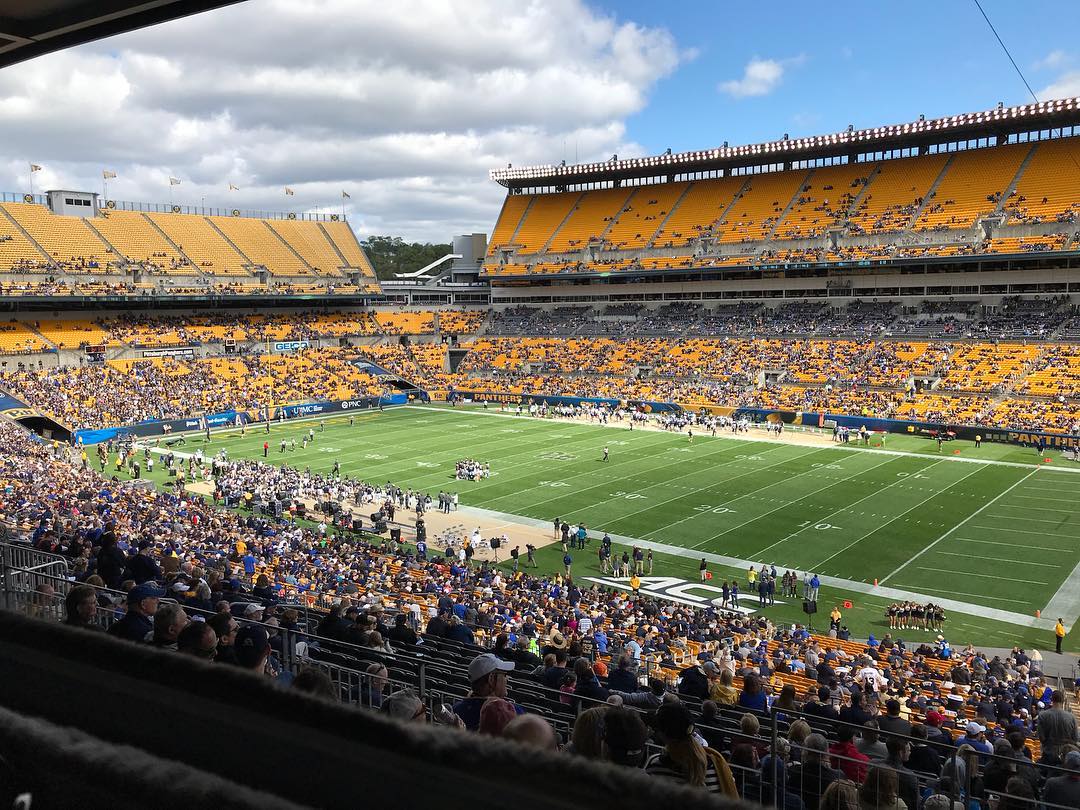 Thank you for reminding us just how great Beaver Stadium is. Not that we didn't already know that, but comparing the home of our Nittany Lions to your rented-out, temporary home by the river just cements how great of an environment we have.
Thank you for helping us remember what the color yellow looks like. There are plenty of visual learners out there, and being so kind as to vacate your seats early enough, or simply avoid the stadium altogether, gives us a great visual as to what a large mass of pure, Pittsburgh yellow looks like.
Thank you for providing us fans with some of the very best Twitter follows around. Honestly, 60% of the reason most of us are even on Twitter at this point is marvel at you wildly bouncing from "We're going 0-12" to "We're beating Penn State by 60" with as insignificant a trigger as Kenny Pickett completing a five-yard comeback throw.
Thank you for having one of the best uniforms in college football, and completely ignoring it half the time to wear something stupid.
Thank you for teaching us about Tim Salem and his hilarious keychain.
Thank you for being Akron.
Thank you for this guy.
In the arms of the angel...

#Pitt #PSU pic.twitter.com/1qW2mozVHV

— Benstonium (@Benstonium) September 9, 2018
But above all else, THANK YOU FOR PAT NARDUZZI.
In fact, we are so thankful for our favorite Nard Dog, that trying to fit everything we love about him into once bullet point would be a crime. Thus...
Thank you, Pat, for being a living, walking, meme. Every single thing you do is magic.
Thank you, Pat, for very slyly avoiding letting your true feelings about #Purduzzi show, and keeping the dream alive.
Thank you, Pat, for saying Penn State is paranoid about stealing signs, after being paranoid about North Carolina stealing their signs.
Thank you, Pat, for keeping your players from talking to the media ahead of this game every year, but giving Roar Lions Roar your real thoughts. Oh, and enraging your own local media members in the process.
Thank you, Pat, for being so ridiculous that our prediction of you getting thrown out of a game for trying to bench press a sideline official doesn't even sound that weird.
Thank you, Pat, for accusing James Franklin of taking "the low road" after taking the low road when talking about Christian Hackenberg.
Thank you, Pat, for asking your team to only be 98% ready to play.
Thank you, Pat, for providing the internet with cannon fodder by taking a shot at a 19-year old who chose Penn State over Pitt.
Thank you, Pat, for speaking in such absurd tongues to the point that we honestly aren't sure whether these are your quotes or Linked In memes.
Thank you, Pat, for not being too angry with Dan for not finishing the three-year study.
Most of all, thank you, Pat, for never being anything less than full-blown Pat Narduzzi. Or at least 98% full-blown Pat Narduzzi.
Arrivederci, Pitt. We're going to miss you.
Love,
Roar Lions Roar