Conejo73134
---
MEMBER SINCE August 02, 2016
Recent Activity
If we accomplish one of these things tomorrow, it's a blowout.
Didn't Morgan have a Pick Six against Georgia Southern and a scoop and score fumble? Or am I misremembering things?
This is the win that saved Franklin. If Tyler Davis doesn't make the kick at the end of the 4th, I feel this team would have unraveled and Franklin most likely is let go at the end of the year. I still remember very vividly the anger on Facebook and on the boards towards Franklin after the Michigan game. Some of it was nasty and borderline racial.
I have seen some people admit on the boards that at halftime of the Minnesota game, they were yelling "Fiur Franklin" and were ready to get rid of him. Maybe I am being extreme, but Davis' kick saved the season, Franklin's job and was the catalyst that turned the program around. That's how important that kick will be to me. Love kickers!
If PSU beats Minnesota, shouldn't that show a better resume than Clemson? I hope they move to #4 after next weekend.
Sterling Jenkins...
He has to be the biggest bust that I can remember in the last 10 years. The hype surrounding him was insane going back to his recruiting. The wait for him to play was insane and he accomplished nothing. He is the poster child of mad hype. Wish him the best.
This should be the easiest game of the 3 game stretch. I just have no faith in MSU scoring more than 17 points. PSU scores at a minimum 24 points... this will be over mid 3rd Quarter.
I have seen rumors that Brandon Wimbush has PSU as his top choice for transfer. I even heard Jalen Hurts being mentioned on ESPN Radio as ending up in Happy Valley on the Will Cain show.
Do we expect any changes at Kicker? Or Pinegar is the man? I thought we have a new kicker (Anthony DaSilva) coming in as a walk on.
Pinegar was brutal at times but he had the game of the season against Iowa.
USA Today has us at the Fiesta Bowl vs Oklahoma. I would love to see Trace shred that BIG 12 Defense and see our D stop Oklahoma. https://www.usatoday.com/story/sports/ncaaf/2018/11/20/college-football-bowl-projections-playoff-holds-texas-penn-state-rise/2064905002/
I already voted...
Well, at least the game is over, so there is that. On to the next one...
By the way, 3 more games and the season is over. Just beat Wisconsin and the other 2 games should be easy wins.
I am surprised this was not a pick 6. How did Nick Scott tripped over is beyond me. I dont think anyone touched him. He had nothing but a clear lane to make it a classic pick 6.
I am going to be that guy and say it like I see it. All the harsh / negative tweets came from white people and the only positive one was from a Black person. I know perhaps I could be reaching here, but just noticed that.
Very narrow view here: We need a kicker. We probably be undefeated right now if we had a decent kicker. We left 6 points off the board yesterday because we dont have a reliable kicker. Not just that but think about how deflating it is to an offense to fight for yards to have your kicker miss their kick. Same for the Ohio State game where the offense feels they need to go for it on 4th and less than 5 even if they are at the 29 yard line.
People nowadays are too sensitive (just look at tennis with Serena William's and her apologists). I am fine with this. No big deal.
Pitt's kicking game just brought to mind, the Virginia game where Ficken had a nightmare of a game. That's what Pitt is dealing with right now.
Just wanted to share this gem from the game...
I want a free shirt :-(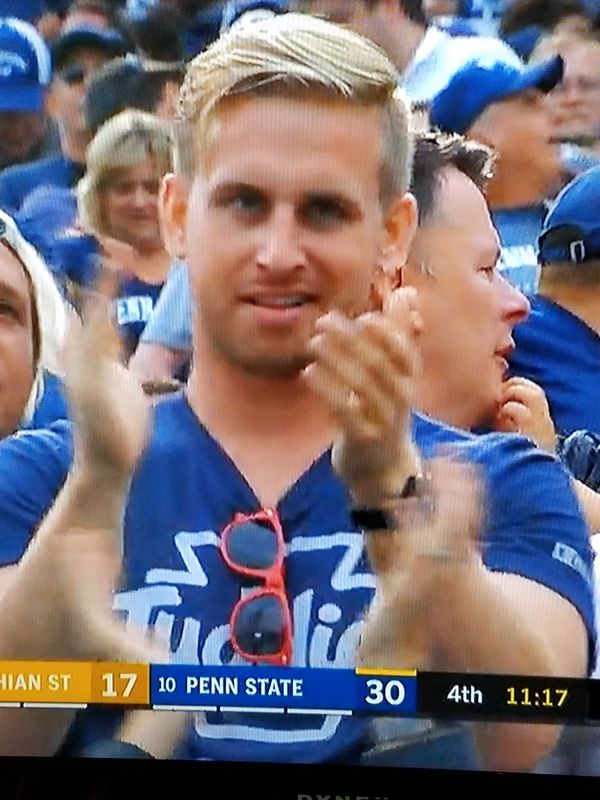 Michigan is the only game I can see our team losing. Ohio State will not be the same this year and the game is at home. Wisconsin will be tough but I still see that as a win. I actually think Wisconsin is overhyped due to their offense being middle of the road. Their D is good (TWSS).
Amen, thanks for the note.
I can totally relate to the loss of a parent. My dad passed away last year, 2 days before the Iowa game. Let's say that seeing that win in dramatic fashion was such an emotional release. Yesterday would have been my dad's 71st birthday so I am emotional this week. Anyhow, WE ARE...
This may sound dumb but I think McSorley is more impactful to Penn State football than Barkley. There were plenty of games down the stretch last season where Barkley was shut down with 1 or 2 yard carries and McSorley had to carry the load. Now all eyes will be on him for every game so I can see why he is Heisman favorite. Barkley was the flashy guy with crazy moves and insane runs but McSorley was still the conductor of the offense.
Yep, he thinks PSU will beat Wisconsin in the Big 10 title game.
The Michigan catch never gets old either. Allen Robinson even has a tattoo of that play.
If we had beat USC at the Rose Bowl, the Saquon TD would have been added as one of the All Time plays in PSU football history. Such a shame we lost that game.
Quite frankly, I think Trace is more important than Saquon. There were a few times where Trace took over games when Barkley struggled or when the O-Line sucked. I see Trace playing a bigger role this year and carrying the team on his shoulders. Trace will run the offense just fine.