thekmosh
Philly (via Lansdale, PA)
MEMBER SINCE August 30, 2018
Self-proclaimed 2018 RLR comments section Rookie of the Year
I had exactly 409 paw prints
More committed than Coach Fitz
I will pay money to hear Gus Johnson read my signature
2k club
Favorites
SPORTS MOMENT: 2016 B1G Championship
2013 Michigan
COLLEGE FOOTBALL PLAYER: Larry Johnson
COLLEGE BASKETBALL PLAYER: Lamar Stevens
NFL TEAM: Baltimore Trace McSorelys
NHL TEAM: Flyers
MLB TEAM: Phillies
SOCCER TEAM: USA
Recent Activity
noodle arm mcsafety
My only regret is that I only have one up paw to give
Was that the 1st, 2nd, or 3rd time we beat them in the same season?
START MICAH BOWENS YOU COWARDS!
Catch them, turn around, run all the way to the 1, take a knee, and try to beat Daniel George's record tuddy catch.
Oh but he already has!
Here's his book about all the rain games last year:

And his book about Franklin's time as a player at East Stroudsburg:

Oh no we don't get to stomp Michigan in the BJ Center this year
He's going to be a lock for this one. Clifford is going to throw a billion yards and even if Hamler only gets a quarter of them, he's set for this award.
I had never heard that story before, thanks!
Their defense is bad
You can take the husker out of the big 12 but you can't take the awful defense out of the husker
It had to be done. I'm sorry, I don't make the rules.
In all seriousness, and since you provided that link, how did he make it into the NFL? His college numbers are nowhere near as good as I remember him being.
Mr Double doesn't believe the board so I decided to provide another source for him to hurl wild accusations at.
An article about Daniel George and a Larry Johnson Jr shoutout within a week's time? I'm feeling spoiled, blog.
He went 39-of-61 on field goals
He definitely went 39-of-59 I have no idea where you got those 2 misses from, they never happened.
Donald Rumsfeld? What year is it?
I wonder if it's because OSU didn't actually lose Meyer. He's a professor at OSU now. When Day was coaching last season it's not like Meyer was gone, he was leading practice all week. The only difference now is that OSU will be allowed to bring Meyer to games if they want.
from 10/1/18 through the bowl game (for PSU because Nebraska didn't make a bowl game):
PSU 5-4
Neb 3-5
Please note that each of these schedules included an actual FCS team (the Rutger and Bethune Cookman respectively)
He literally ran a 4.4 at the combine. It's incredibly realistic that he has run a 4.3.
I definitely watched an Army game last year where they got the ball to start the game and still had it when the second quarter started. Army football is how God intended this game to be played.
Coach Hype? I thought that was supposed to be Chambers not Franklin. You guys need to keep your nicknames straight.
Interesting that they have a line for Ohio State but not Michigan.
I'm just saying that no one else on the roster even comes close to that stat line. I look forward to that YPC stat hitting 99.
and look at him just turn on the jets:

Sean Clifford Daniel George

The 95-yard TD pass is the longest in @PennStateFball history. pic.twitter.com/31mCwpvH6t

— FOX College Football (@CFBONFOX) September 15, 2018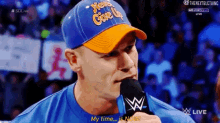 You guys keep saying that about Minnesota, but we're touchdown favorites per the latest S&P+ projections. Easy 15-0 this year